What is Pesticide Action Week (PAW)?
Pesticide Action Week is an annual event created in 2005 by Générations Futures, a French NGO. It takes place from March 20 – 30 to promote more environmentally and human health-friendly agricultural practices. These dates are not coincidental; they coincide with the first days of spring and also mark the beginning of pesticide spraying in agricultural fields.
What are the objectives of Pesticide Action Week?
The objectives are:
Inform and raise awareness on a large scale about health and environmental risks associated with pesticide use.
Promote viable alternatives to synthetic chemical treatments in various current sectors of use (agriculture, roadways, green spaces, textiles, etc.).
Mobilize and unite a wider network of committed stakeholders mobilized for this cause (citizens, civil society organizations, elected officials, etc.).
We are Pesticide Action Week (PAW)!
PAW currently brings together thousands of events organized by hundreds of volunteers such as citizens, elected officials, and civil society organizations, both in France and abroad. These 10 days allow us, thanks to conferences, workshops, panel discussions, and other events of your choice, to raise awareness about the harmful effects of synthetic pesticides and promote existing alternatives.
PROMOTING LOCAL, SEASONAL AND ORGANIC PRODUCE, THE ONLY EFFECTIVE RESPONSE TO FOOD SOVEREIGNTY, DENOUNCING MISLEADING ALTERNATIVES FOR BETTER HEALTH IS AT THE HEART OF PAW 2024.
Governments – usually under lobbyists' pressure – advocate that no pesticide ban should be enforced unless perfect alternatives are available.
Beyond the fact that if a pesticide is dangerous for health or the environment, it should be banned irrespective of alternative solutions, the reality is that alternatives to the use of synthetic pesticides exist and are widely implemented throughout the country. Let's support them massively with elected officials and pass on the message to the general public! This is especially crucial these days when the use of glyphosate has been reapproved for the next 10 years within the EU.
Moreover, at a time when initiatives for « food sustainability » claiming to be alternatives to the use of synthetic pesticides (certification labels, private brands, etc.) are proliferating, PAW will remain committed to discriminating between genuinely virtuous approaches and misleading or inefficient alternatives from a health, environmental and social perspective.
The theme for the 19
th
Edition of Pesticide Action Week (PAW):
The theme for this year is Health. Our health is precious, yet due to the ubiquitous contamination of our environment (water, air, soil, food) with synthetic pesticides, we are exposed on a daily basis to the harmful health effects of these substances. Whether through professional or environmental exposure, we are all affected.
This year, PAW partners and (our) team have decided to emphasize the health implications of the pesticide issue to highlight the urgency of moving away from the dominant agricultural model.
PESTICIDES AND HUMAN HEALTH: WE'RE ALL CONCERNED.
Farmers are the first to be stricken by the harmful effects of pesticides, whereas pregnant women are the most vulnerable. Indeed, recent studies have shown links between repeated exposure to synthetic pesticides and some different cancers and Parkinson's disease. Still, these categories of the population are not the only ones concerned.
PESTICIDES AND ECOSYSTEM HEALTH: A WARNING FOR BIODIVERSITY COLLAPSE.
The health of our environment is equally vital. The extensive use of pesticides in our dominant agricultural model has a significant impact on our ecosystems, threatening our biodiversity and resources.
There has been a 25% loss in bird populations, equivalent to 800 million species since 1980. Insects have also seen their populations decline by 41%, with 31% of the species threatened with extinction. The causes? Intensive agriculture and agrochemistry.
As can be seen, the effects of pesticides trigger an avalanche of environmental and health problems. Impact on the environment, impact on health – everything is interconnected.
---
I want to become a partner of Pesticide Action Week 2024
Civil society organizations become partners of Pesticide Action Week. Contact Marie as soon as possible to join the campaign at this email address: alternatives@generations-futures.fr.
I want to become an Organizer of Pesticide Action Week 2024
Citizens, amateur or professional gardeners, farmers, elected officials, and other organizations, become organizers of Pesticide Action Week by setting up your own awareness event on alternatives to pesticides. Do you garden or grow produce without pesticides? Are you a consumer of organic products? Are sustainable agriculture and food topics of any interest to you? Whether these issues are at the heart of your expertise or you are simply moved by them, get involved with us because you will be the best ambassador for pesticide alternatives!
---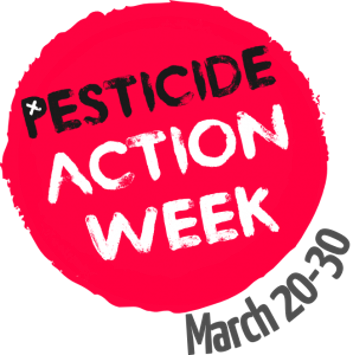 How to organize an event?
It's easy! Pesticide Action Week team invites you to visit this page to access various resources available for organizing your event. The Organizer's Guide, official posters, flyers, banners for your social networks, stories and posts, quizzes, and challenges, everything you need can be found there.
To download the Organizer's Guide, just click here.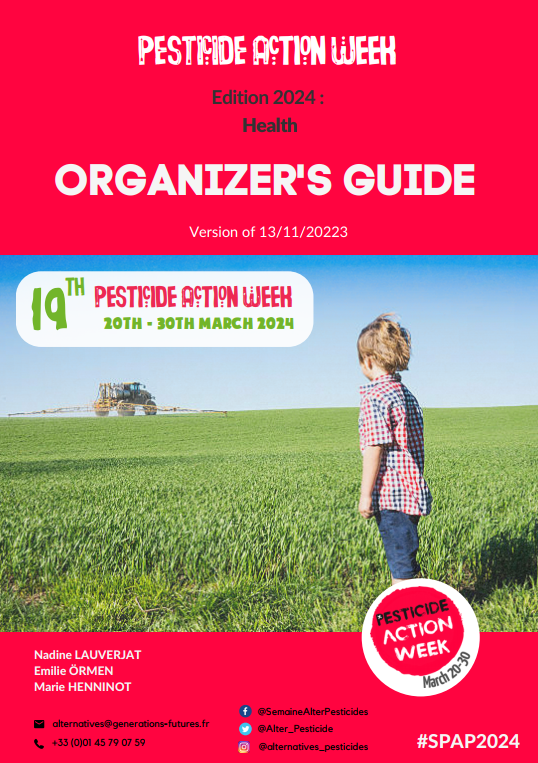 Download the Pesticide Action Week 2024 Organizer's Guide
And finally, to stay updated on the latest news about alternatives to pesticides, sign up for our newsletter.
You can also watch our video by clicking on the button (subtitles are available, you just need to activate them with the little icon on the right once you are on Youtube).