Call for a pesticide-free spring! Join us for the 2018 edition!
The Pesticide Action Week is an annual and international event, open to everyone, with the aim to promote alternatives to pesticides. The campaign takes place during the  first ten days of every spring (20th-30th of march) when usually the spreading of pesticides resumes.
The public is invited to get better informed about the sanitary and environmental challenges caused by pesticides and learn more about possible alternatives to pesticides by taking part in one of the hundreds of organised activities: conferences, panel discussions, film showings, workshops, open days at organic farms, information stands, exhibitions, shows…
The goals of this event are:
Raising awareness on the health and environment risks of synthetic pesticides
Highlighting and promoting alternative solutions
Building a global grassroots movement for a pesticide-free world
After the success of the 12th edition with more than 1 000 actions in 18 different countries, the Pesticide action week will be back with its 13th edition from March 20th to March 30th 2018. While waiting for the website update, the creation of new communication tools and special events regarding the health issue, you can already spread the news through your networks in order to let more organizations and people know about the event and encourage them to join the Pesticide action week by organizing an event.
Information regarding the 2018 edition 
The 13th Pesticide Action Week will take place from march 20th to march 30rd 2018.
This section will be updated little by little with all the informations and communication tools you will need to get ready and organise your events.
You can already spread the news to all your contacts so that as many organisations can join for a wider international movement for a pesticide free future.
If you and/or your organisation want to join and organise some event(s) do not hesitate to contact Sophie, our campaigner: contact@pesticideactionweek.org
You can also look down there to get a glimpse at what happened last year !
The 2018 info & tools you can use !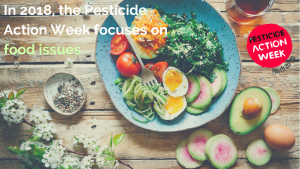 In 2018, the 13th edition will focus on food issues, even thought you can also organize events that are not related to food (as long as it's related to alternatives to pesticides !)
Here are some examples for those of you who might not have ideas :
Push for organic food in canteens
Organic food testing
Cooking classes
Farmer's market
Farms open doors
« Making your own organic bread » workshop
Film showing with organic food testing
Organic picnic
etc.
You are more than welcome to get creative and organize every other events you want regarding food
It will also be a good opportunity to ask your governments for a real agricultural and food policy protecting people's health and our environment.
THE 2018 POSTER :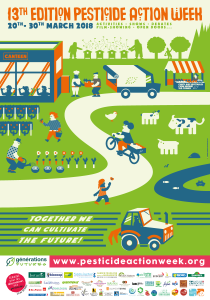 The 2018 poster that you can download here for using on the web and here in HD
The 2018 logo that you can download here
Do not forget to send all the information regarding your events to Sophie at contact@pesticideactionweek.org so that we can put them on the official program and on the interactive map !
VISUALS FOR TWITTER AND FACEBOOK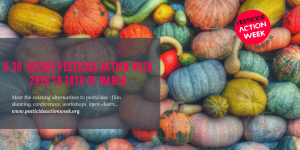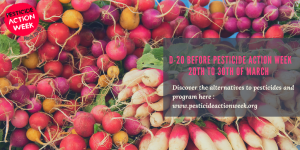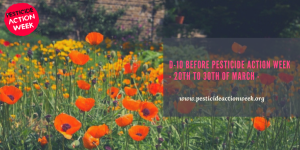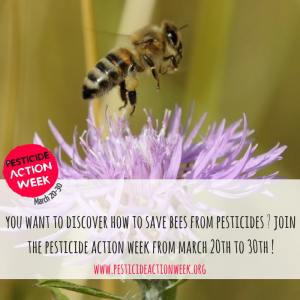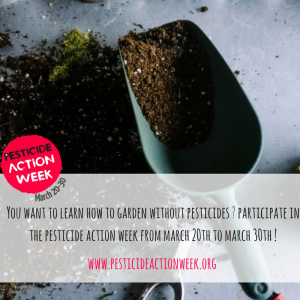 The 2017 communication tools !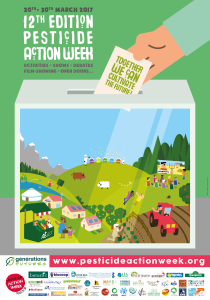 The 2017 poster is ready and you can download it here .
The 2017 logo that you can download here
Do not forget to send all the information regarding your events to Sophie at contact@pesticideactionweek.org so that we can put them on the official program and on the interactive map !
The 2017 international partners !
HEAL
| | |
| --- | --- |
| The Health and Environment Alliance (HEAL) is a leading European not-for-profit organisation addressing how the environment affects health in the European Union (EU). We demonstrate how policy changes can help protect health and enhance people's quality of life. | |
PAN Europe
| | |
| --- | --- |
| Pesticide Action Network (PAN) was founded in 1982 and is a network of over 600 non-governmental organisations, institutions and individuals in over 60 countries worldwide working to minimise the negative effects and replace the use of harmful pesticides with ecologically sound alternatives. Its projects and campaigns are coordinated by five autonomous Regional Centres. PAN Europe is the regional centre in Europe. It was founded in 1987 and brings together consumer, public health, and environmental organisations, trades unions, women's groups and farmer associations from across 19 European countries. | |
Adalia – Belgium
| | |
| --- | --- |
| Belgian association created in 2001. They organise their own « pesticide action week » and decided in 2016 to make it a whole  « Spring without pesticide »  thanks to its success ! | |
PAN Italia- Italie
| | |
| --- | --- |
| Pesticide Action Italie est le membre national Italien de PAN Europe. L'objet est de dénoncer l'impact des pesticides sur la santé et l'environnement et de promouvoir les systèmes alternatifs permettant de se passer des pesticides. | |
PAN UK
| | |
| --- | --- |
| Our work includes campaigning for change in policy and practices at home and overseas, co-ordinating projects in the developing world which help smallholder farming communities escape ill-health and poverty caused by pesticides, and contributing our wealth of scientific and technical expertise to the work of other organisations who share our aims. | |
Breast Cancer UK
PWe believe far more can be done to help prevent breast cancer. That's why we think it's time to move beyond breast cancer awareness to preventative action. The aims are:

Campaign to encourage a preventative approach by calling for improvements in legislation and public health policies which reduce our exposure to chemicals associated with breast cancer;
Raise awareness amongst members of the public about the links between exposure to harmful chemicals and breast cancers; and providing practical solutions to help reduce exposure;
Support scientific research into the links between breast cancer and exposure to carcinogenic, hazardous and endocrine disrupting chemicals.
Quercus – portugal
Querus is a member of PAN Europe.


It is an independent, non-partisan association of national scope, non-profit and made up of citizens who have gathered around the same interest for the Conservation of Nature and Natural Resources and in Defense of the Environment in general, with a view to sustainable development.
Fundacion Alborada – Spain
| | |
| --- | --- |
|  The Alboradora Foundation is a spanich organization which main goal is to help people that have a disease linked with the environment. They have a treatment center -pionner in Spain – dedicated to environmental deseases and organise each year an international conference to push for environmental diseases to be more considered and taken into account. | |
Fundacion Vivo Sano – Spain
| | |
| --- | --- |
| The Vivo Sano Foundation is an independent organisation which aims at creating a healthier society. They aim to promote healthier habits, a new model of health and non agressive therapy so that the institutions really take into account the health of their citizens. | |
Asociacion Española de educacion ambiental – Spain
| | |
| --- | --- |
| The spanish association for an environmental education was created in 1995 as an open association, scientific without a lucrative goal. Its aim is to promote an environmental education as a way to protect the environment and to promote sustainable development. | |
Eccologistas en accion – Spain
| | |
| --- | --- |
| Eccologistas en accion is an organisation gathering more than 300 environmentalists from different cities or villages. They aim to launch information campaigns to raise awareness or to denounce mesures that impact the environment. They also aim to promote healthier alternatives to protect our environment. | |
Asociacion española de Apicultores – Espagne
| | |
| --- | --- |
| The spanish beekeepers'association aims to promote and defend the development of bees and beekeeping in Spain. | |
Natur im garten– Austria
| | |
| --- | --- |
| "Natur im Garten" (Nature in the Garden) is an initiative of the province of Lower Austria that aims to make gardens and green areas in Lower Austria and across national borders more ecological. The principles and key criterias of "Natur im Garten" are the creation and maintenance of gardens and green areas without pesticides, without artificial fertilizers and without peat; the biological diversity is thereby promoted. The focus of « Nature in the Garden » is on comprehensive education and counselling services for ecological gardening, which includes personal advice on site and through the « Nature in the Garden » telephone, seminars and lectures as well as university courses and practical examples to look at in many show gardens throughout the country. The largest « Natur im Garten » show garden, called "DIE GARTEN TULLN" is Europe's first permanent organic Horticultural Garden Show.  | |
Green Drinks – Malte
Green Drinks is a space created for people interested in the gre

en movement across all disciplines, professions or interests. It's just a great opportunity for people of similar minds to meet up bi-monthly and chat in an informal atmosphere.
Slow Food International
| | |
| --- | --- |
| Slow food international is a global, grassroots organization, founded in 1989 to prevent the disappearance of local food cultures and traditions, counteract the rise of fast life and combat people's dwindling interest in the food they eat, where it comes from and how our food choices affect the world around us. | |
Slow Food Malta – Malte
| | |
| --- | --- |
| Slow food Malta, formally launched in 2009, is a member of Slow Food international. Slow Food believes food is tied to many other aspects of life, including culture, politics, agriculture and the environment. Through our food choices we can collectively influence how food is cultivated, produced and distributed, and as a result bring about great change | |
Macedonian association of doctors for environment MADE – Macédoine
| | |
| --- | --- |
| Macedonian NGO member of HEAL. This organization works to organize campaigns and conferences on the questions of pesticides, chemicals and about the impacts of pollution on health and environnement. It also has a focus on the effect of chemicals on children's health. | |
RAPAL – Argentina
| | |
| --- | --- |
| PAN international member, RAPAL il fighting against pesticides by dounouning its effects on health and environnement and promoting the alternatives. |   |
What happened during the 2016 edition?2016: A year dedicated to health ! For its eleventh edition, the Pesticide Action Week will focus on a specific issue: Health !We do not want to let all the other issues out and of course everyboday can organise events related to biodiversity, natural gardening, organic food, agricultural techniques, soils…but we want to mainly focus on informing about the impacts of pesticides on health and how to promote the alternatives for a better health.We would also like to get closer to the medical world in order to raise  doctors, midwives, nurses, obstetricians' awareness about health and environnment so that environnement related diseases will be more taken into account.This « health focus » will also be a good opportunity to put pressure on decision makers so that they implement real policies to reduce the use of pesticides and protect people and professional's health !The call to participate is also available in both French and Spanish in case you need it in those languages.Download and use the 2016 communication tools !The 2016 poster: Here you can download the 2016 poster in order to print it and use it for your events!The 2016 logo to put on your email signature, on your communications…Register for the newsletter on the website homepage – you can read an example hereSee our national and international partners list hereSo get ready and join us for the next edition! The 11th edition of the Pesticide Action Week will take place from 20thto 30th March  2016.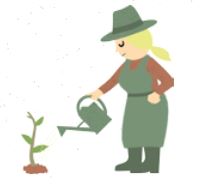 Also watch our short video about the Pesticides Action Week to have all information what this is all about and how you can participate and contribute to this great event!Every year, hundreds of citizens, associations, farmers, companies, teachers, local governments etc. organise hundreds of various events: conferences, film shows, theatre shows, open door days, organic cooking classes, exhibitions, workshops, information booths, farmer markets, organic meals …Initiated in 2006 by the French organisation Générations Futures, this event currently takes place in more than 16 countries worldwide. Every year the event gets bigger and  stronger in Europe and globally.In 2015, this event represented nearly a thousand grassroots events in more than 20 countries worldwide:
Europe: France, Belgium, Germany, Spain, Switzerland, Austria, Italy, Portugal, Hungary, Malta, Greece, Estonia,


Africa: Burundi, Mali, Togo, Benin, Gabon, Senegal, Tunisia

Asia: Vietnam

Latin America: Mexico, Costa Rica, Argentina

Middle East: Iran
See our national and international partners list hereHelp us to create an international event that gathers together thousands of grassroots events with the same message: for a pesticide free future! The more countries that take part in the event, the stronger the message will be. It is when we come together that we truly feel the strength and power of this movement.The event takes place during the first 10 days of spring. We want to call for a pesticide free spring as this is the main period for spraying pesticides (in the Northern hemisphere).Add your voice to this expanding international movement: get involved!No need to have a lot of money, logistics or a specific experience: each action counts. Every single person, association, company, local government, teacher etc. can participate at their own scale. Actions can range from 10 people visiting an organic farm, 50 taking part in an organic cooking class, 100 watching a documentary to 200 people attending an international congress!Be inspired to hold your own creative action and plan an event!BACKGROUND –The issue of pesticides and their alternatives remains a central sanitary, agricultural and environmental topic which keeps mobilizing people across the world. All of us are exposed directly or indirectly to pesticides and further agrochemicals simply via the food we eat, the water we drink, the air we breathe and the products we use for gardening and in the household. Pesticides have serious impacts on our environment and our health. Vulnerable groups such as pregnant women and children are especially at risk.Latest newsMore to come about the 2016 edition…Communication tools for 2016The 2016 logoyou can already download it here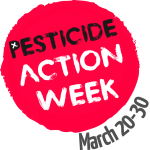 The 2016 poster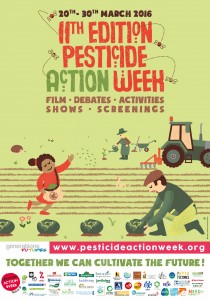 The 2016 poster: Here you can download the 2016 poster in order to print it and use it for your events!Communication tools for 2015
You can participate to! Organise your event! Share the event! Communicate the event with the help of our different tools!The official 2015 poster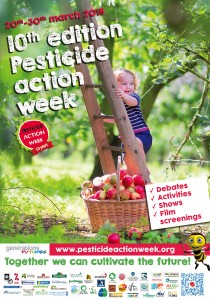 You can download it here and print it to promote your event The official 2015 FlyerDownload here the official 2015 flyer which present the Pesticide Action Week. Do not hesitate to spreat it around you.QR code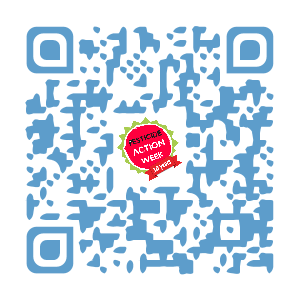 In 2015 we have created a new QR code that you can download here in order to use it on your communication tools (flyers, posters, Facebook, twitter, e-mail signature…). A QR code is a digital code that you can scan with a smartphone app in order to acess a specific website. Here you will go on the PAW english page! Do not hesitate to use and spreat it!Postal cardsYou can even travel with us every week by discovering a new postcard about the pesticides issue in differents part of the world. Send out our weekly postcard to your family and friends!First destination: Europe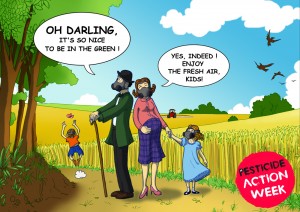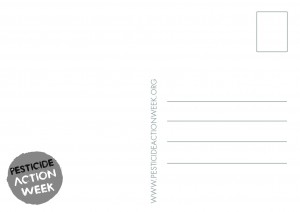 Second stop: Africa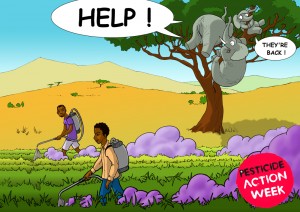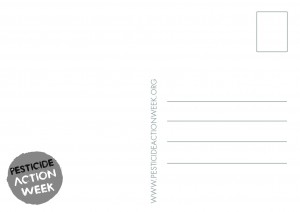 Next stop: Latin America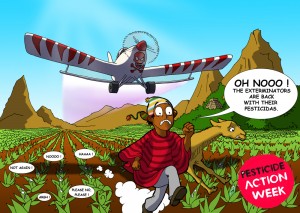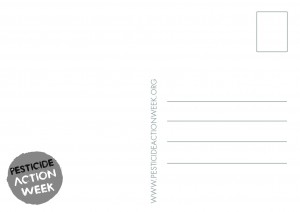 And finally our last stop for this year: North America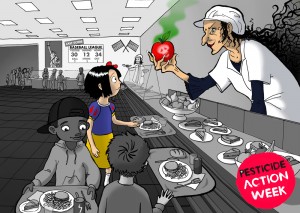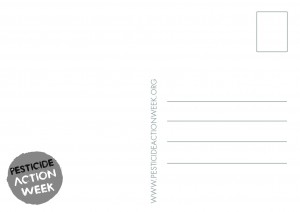 VideosWatch our short campaign video about the Pesticides Action WeekCampaign poster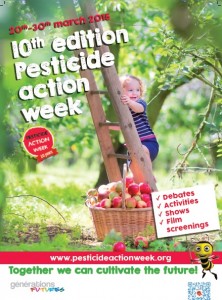 Download the 2015 campaign posterCampaign logoDownload the campaign logo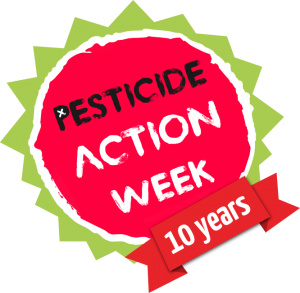 Download the screensaversDownload the campaign banner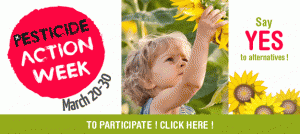 PressPress release: Launch of the 9th Pesticide Action Week 2014Press kit 9th edition of the Pesticide Action Week March 2014Press release: Announcement of 9th edition of the Pesticide Action Week (3rd February 2014)Pictures
Do you wish to take part in the Pesticides Action Week? This is how you can participate:Comply with the commitment charterBy registering your event on the website, you accept the commitment charter stated below.To register an event:- send us by e-mail all information about the event (type of event, date, place) to contact@pesticideactionweek.org1. Follow the objectives of the Pesticides Action Week The participants (associations, businesses, authorities, individuals etc.) can introduce a variety of events and action plans, which aim to reach the following targets: 1. Informing and alerting the public to the health and environmental risks linked to the use of synthetic pesticides (and non-bio pesticides) 2. Promote feasible alternatives to synthetic chemical treatments in all sectors (agriculture, gardening, roads and highways, green spaces, homes, textiles etc.)2. Non-violence The participants involved will respect the rules against violence (e.g. verbal abuse of people or their actions).3. Partners An event cannot be supported by businesses that produce or market pesticides.If there is found to be a lack of respect for these principles, the coordinators will, without warning, delete the activities already registered on the website and will ask participants to no longer register their events on the site for the Pesticides Action Week.Contactcontact@pesticideactionweek.orgTel : +33 (0)9 70 46 09 94 / +33 (0)1 45 79 07 59
Logo ENGLISH Pesticides Action WeekLogo ESPANOL Semana sin PesticidasLogo DEUTSCH Pestizid-AktionswocheLogo PORTUGUÊS Semana sem pesticidasLogo HEBREW  עִבְרִיתLogo ITALIANO Settimani per le alternative ai pesticidi  Logo NEDERLANDS Actieweek tegen pesticiden Logo Arabe  عربي
        

The Pesticides Action Week in other countries