WHAT IS THE PESTICIDE ACTION WEEK? 
The main goals of the Pesticide Action Week (PAW) are to raise awareness on the health and environment risks of chemical pesticides, to highlight and promote alternative solutions, and to build an international network for a pesticide-free world. This week is the occasion to show the world that many organizations and citizens are willing to get rid of toxic chemicals. It also proves that public opinion realized how important it is to choose alternatives to pesticides in order to protect both the health and the environment for futures generations.
WHO?
The Pesticide Action Week is organized by Générations Futures. For over 20 years, the French organization has been working on the issue of chemical pesticides and their dangers. In the context of the Pesticide Action Week, the association gathers more than 50 national partners, international organizations, as well as local participants.
WHEN? 
It takes place each year between the 20th and the 30th of March. The first ten days of spring represent the beginning of pesticide spraying in most areas. Each year, we choose a specific theme that becomes at the center of every activity for ten days. This year, it is Food Sovereignty, a concept that represents the right to choose what we consume and how we produce it. It involves self-sufficiency and circular economy, the protection and conservation of resources, and giving value to food and those who produce it.
WHERE?  
Every year, more than 1,000 events are organized in France and abroad by citizens, associations, unions and regional authorities. You can also be part of this movement in 2021 and organize a conference, a movie screening, any type of workshops, shows, or visits… The imagination is all yours. Try to picture how great it would be to be all united in this fight all around the world at the same time!
You can watch our video by clicking on this button (subtitles are available, you just need to activate them with the small icon on the right once you are on Youtube)
How to proceed?
If you are organizing an event that fits the topic of the week, you can register it now by filling in the form.
We are here to guide you through the organization of your event and the communication process. You can download the Organization Guide here. You can also download the poster and visual aid below.
If you and/or your organisation want to officially become one of our international partners, please contact our head of campaign at: alternative@generations-futures.fr
Joining the Pesticide Action Week will bring you more visibility. Our association will communicate about your events through its website and its social networks.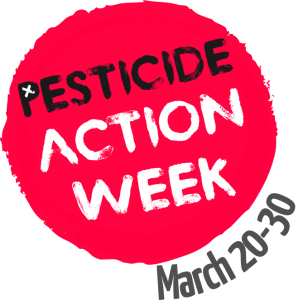 VISUAL AID