Call for a pesticide-free spring! Join us for the 2017 edition!
The Pesticide Action Week is an annual and international event, open to everyone, with the aim to promote alternatives to pesticides. The campaign takes place during the  first ten days of every spring (20th-30th of march) when usually the spreading of pesticides resumes.
The public is invited to get better informed about the sanitary and environmental challenges caused by pesticides and learn more about possible alternatives to pesticides by taking part in one of the hundreds of organised activities: conferences, panel discussions, film showings, workshops, open days at organic farms, information stands, exhibitions, shows…
The goals of this event are:
Raising awareness on the health and environment risks of synthetic pesticides
Highlighting and promoting alternative solutions
Building a global grassroots movement for a pesticide-free world
After the success of the 10th edition with more than 1 000 actions in 20 different countries, the Pesticide action week will be back with its 11th edition from March 20th to March 30th 2016. While waiting for the website update, the creation of new communication tools and special events regarding the health issue, you can already download the new call to participate and spread it through your networks in order to let more organizations and people know about the event and encourage them to join the Pesticide action week by organizing an event.
Information regarding the 2017 edition 
The 12th Pesticide Action Week will take place from march 20th to march 30rd 2017.
This section will be updated little by little with all the informations and communication tools you will need to get ready and organise your events.
You can already download the call for participation here and send it to all your contacts so that as many organisations can join for a wider international movement for a pesticide free future.
If you and/or your organisation want to join and organise some event(s) do not hesitate to contact Sophie, our campaigner: contact@pesticideactionweek.org
You can also look down there to get a glimpse at what happened last year !
What happened during the 2016 edition?
2016: A year dedicated to health !
For its eleventh edition, the Pesticide Action Week will focus on a specific issue: Health !
We do not want to let all the other issues out and of course everyboday can organise events related to biodiversity, natural gardening, organic food, agricultural techniques, soils…but we want to mainly focus on informing about the impacts of pesticides on health and how to promote the alternatives for a better health.
We would also like to get closer to the medical world in order to raise  doctors, midwives, nurses, obstetricians' awareness about health and environnment so that environnement related diseases will be more taken into account.
This « health focus » will also be a good opportunity to put pressure on decision makers so that they implement real policies to reduce the use of pesticides and protect people and professional's health !
The call to participate is also available in both French and Spanish in case you need it in those languages.
Download and use the 2016 communication tools !
The 2016 poster: Here you can download the 2016 poster in order to print it and use it for your events!
The 2016 logo to put on your email signature, on your communications…
Register for the newsletter on the website homepage – you can read an example here
See our national and international partners list here
So get ready and join us for the next edition! The 11th edition of the Pesticide Action Week will take place from 20thto 30th March  2016.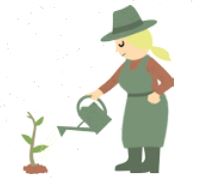 Also watch our short video about the Pesticides Action Week to have all information what this is all about and how you can participate and contribute to this great event!
Every year, hundreds of citizens, associations, farmers, companies, teachers, local governments etc. organise hundreds of various events: conferences, film shows, theatre shows, open door days, organic cooking classes, exhibitions, workshops, information booths, farmer markets, organic meals …
Initiated in 2006 by the French organisation Générations Futures, this event currently takes place in more than 16 countries worldwide. Every year the event gets bigger and  stronger in Europe and globally.
In 2015, this event represented nearly a thousand grassroots events in more than 20 countries worldwide:
Europe: France, Belgium, Germany, Spain, Switzerland, Austria, Italy, Portugal, Hungary, Malta, Greece, Estonia,


Africa: Burundi, Mali, Togo, Benin, Gabon, Senegal, Tunisia

Asia: Vietnam

Latin America: Mexico, Costa Rica, Argentina

Middle East: Iran
Help us to create an international event that gathers together thousands of grassroots events with the same message: for a pesticide free future!
The more countries that take part in the event, the stronger the message will be. It is when we come together that we truly feel the strength and power of this movement.
The event takes place during the first 10 days of spring. We want to call for a pesticide free spring as this is the main period for spraying pesticides (in the Northern hemisphere).
Add your voice to this expanding international movement: get involved!
No need to have a lot of money, logistics or a specific experience: each action counts. Every single person, association, company, local government, teacher etc. can participate at their own scale. Actions can range from 10 people visiting an organic farm, 50 taking part in an organic cooking class, 100 watching a documentary to 200 people attending an international congress!
Be inspired to hold your own creative action and plan an event!
BACKGROUND –The issue of pesticides and their alternatives remains a central sanitary, agricultural and environmental topic which keeps mobilizing people across the world. All of us are exposed directly or indirectly to pesticides and further agrochemicals simply via the food we eat, the water we drink, the air we breathe and the products we use for gardening and in the household. Pesticides have serious impacts on our environment and our health. Vulnerable groups such as pregnant women and children are especially at risk.
Latest news
More to come about the 2016 edition…
Communication tools for 2016
The 2016 logo
you can already download it here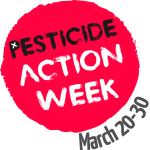 The 2016 poster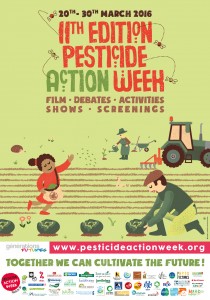 The 2016 poster: Here you can download the 2016 poster in order to print it and use it for your events!
Communication tools for 2015

You can participate to! Organise your event! Share the event! Communicate the event with the help of our different tools!
The official 2015 poster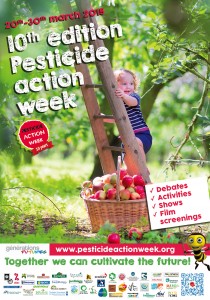 You can download it here and print it to promote your event
The official 2015 Flyer
Download here the official 2015 flyer which present the Pesticide Action Week. Do not hesitate to spreat it around you.
QR code

In 2015 we have created a new QR code that you can download here in order to use it on your communication tools (flyers, posters, Facebook, twitter, e-mail signature…). A QR code is a digital code that you can scan with a smartphone app in order to acess a specific website. Here you will go on the PAW english page! Do not hesitate to use and spreat it!
Postal cards
You can even travel with us every week by discovering a new postcard about the pesticides issue in differents part of the world. Send out our weekly postcard to your family and friends!
First destination: Europe
Second stop: Africa

Next stop: Latin America
And finally our last stop for this year: North America

Videos
Watch our short campaign video about the Pesticides Action Week
Campaign poster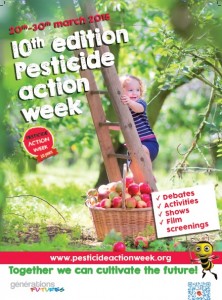 Download the 2015 campaign poster
Campaign logo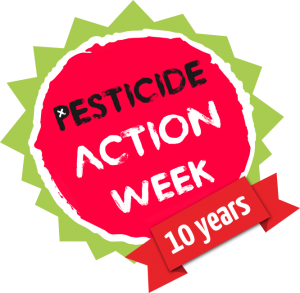 Download the screensavers
Download the campaign banner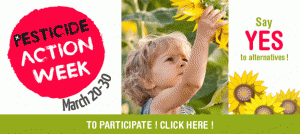 Press
Press kit 9th edition of the Pesticide Action Week March 2014
Pictures
Do you wish to take part in the Pesticides Action Week? This is how you can participate:
Comply with the commitment charter
By registering your event on the website, you accept the commitment charter stated below.
To register an event:
- send us by e-mail all information about the event (type of event, date, place) to contact@pesticideactionweek.org
1. Follow the objectives of the Pesticides Action Week The participants (associations, businesses, authorities, individuals etc.) can introduce a variety of events and action plans, which aim to reach the following targets: 1. Informing and alerting the public to the health and environmental risks linked to the use of synthetic pesticides (and non-bio pesticides) 2. Promote feasible alternatives to synthetic chemical treatments in all sectors (agriculture, gardening, roads and highways, green spaces, homes, textiles etc.)
2. Non-violence The participants involved will respect the rules against violence (e.g. verbal abuse of people or their actions).
3. Partners An event cannot be supported by businesses that produce or market pesticides.
If there is found to be a lack of respect for these principles, the coordinators will, without warning, delete the activities already registered on the website and will ask participants to no longer register their events on the site for the Pesticides Action Week.
Contact
contact@pesticideactionweek.org
Tel : +33 (0)9 70 46 09 94 / +33 (0)1 45 79 07 59
The Pesticides Action Week in other countries